♥Fabrics♥
The lolita fabric of choice is typically nice cotton and other natural fibers. Microsuede or high quality velvet is occasionally used for classic lolita styles (such as by Mary Magdalene), and wool is often used for winter coats. Polyester and other synthetic fabrics are unusual.

Solids - honestly any color will work for the most part as long as it's pretty and elegant. Puke green is probably out, and lime green is a bit wonky, but like a nice muted green is wonderful. Avoid neon/hot colors really and you'll be fine.

Prints - most loli prints tend to be floral, but if you find a really cute fabric with little cakes or ballet shoes then that can also be a great print to use. Some examples of prints: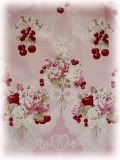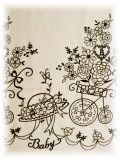 ♥Trims♥
Lace - see guide below

Ruffles

Pintucks

Ribbons and bows

Motifs and appliques - there are tons of good loli motifs to work into your outfit, I'll list a few here with some examples. Some that I don't have examples for include keys, bows, hearts, etc. Click on the pink hearts for examples.

Animals:
♥ ♥ ♥

Cakes/Deserts:
♥

Cards
♥

Crosses:
♥ ♥ ♥ ♥

Crowns:
♥ ♥ ♥ ♥

Fairy Tale:
♥

Flowers:
♥

Fruit:
♥ ♥ ♥ ♥ ♥

Musical Notes:
♥ ♥ ♥ ♥ ♥ ♥ ♥ ♥ ♥

Skulls:
♥ ♥

♥Things to Avoid♥
♥Satin
♥Polyester
♥Cheap, scratchy lace


♥Lace♥
♥Example of pretty nice lace:
(Venise)



♥Also pretty good:
(Beading)



(Cluny)



(Eyelet)



(Raschel) (thank you
chibichibiusa


♥Example of not-so-good lace:
(Raschel)



♥Things to look for in a good lace:♥
♥Softness - this is one of the most important qualities because you don't want lace scratching your skin whenever you wear it. Touch it against a part of you that's softer than you hands, like your cheek or wrist, to make sure it isn't rough.
♥Good fibers - synthetic fibers are ok sometimes but cotton is the best choice.
♥Thickness - cheap lace looks like it was cookie-cut out of a think sheet of stiff material, while nicer lace looks more like it was embroidered and will be thicker, though softer.
♥Solid details - while all the fine little details on raschel lace may look nice while you're holding it, these tiny features will just appear blurry and grey if you put it over a dark fabric so stick with a design that'll stand out with thicker lines and not fade into the background.
♥Color - if you have more than one type of lace, make sure they match colors. Though there should really be only one type or white or black, there's really quite a few, and some don't look very nice together.
♥Eyelet lace - eyelet lace with really cute designs is a less expensive alternative to things like venice lace and is almost always made out of soft cotton. Just look for some of the more interesting types. (Thank you
wieselkind)

♥Things to avoid:♥
♥Stiffness/scratchiness - if you have scratchy lace on a piece, it'll make you less inclined to wear it. I've made some pretty cool items that I just never wear because they're so uncomfortable.
♥Netting - look at the not-so-good lace about, see where there's that gray area where the netting part is? It doesn't look very good on top of fabric, and it looks see-through over skin, giving it that costume-y appearance.
♥Glitter/tie-dye lace - while this type of lace can look neat on some projects, lolita may not be the best place to use it.

♥Other tips:♥
♥Use more than one type of lace. If you want to splurge on some nice wide cotton lace for the bottom of your skirt, maybe use a smaller trim elsewhere. Not only will this save you some money, it'll make your piece look more interesting.
♥For sweeter lolita clothes it generally looks cuter when you have little shapes like flowers, hearts, or bows in the lace. For gothic or aristo patterns like the good lace above look very elegant.
♥Ruffling lace can look really good at times, but don't go overboard, especially if the lace looks really nice flat. Save the ruffled lace for the outermost hems, like at the bottom of your skirt. And avoid adding ruffled lace to already ruffled material, it's a bit too much. (thank you
oshidori)
♥There isn't one specific type of lace to look for, you have to look at each design individually because some are better than others.

♥When it's ok to use cheaper lace:♥
♥Black on black/white on white. The lace doesn't stand out that much when it's the same or a similar color to it's background so it's not as important that it's the perfect lace.
♥Lace thinner than 3/4" or so, as long as it doesn't touch you skin. Avoid really wide cheap lace, it's very obviously poor quality.
♥Raschel lace beading look fine when threaded with ribbon.
♥If you already have a lot of high quality lace on something, it's ok to throw in a little of the cheap stuff if you really like the pattern on it. Just don't let it overwhelm the nice lace.


♥Tutorials♥
My own:
Bunny scarf
Shirred jumper




This part's my own opinion mostly about what I think looks best on different body types, probably the most accurate is the busty lolitas part because that's the category I fit in best.




I'll add some more for later, but for now a link to the egl memories:
EGL


♥Free Patterns♥
Gosu Rori Scans
Batty-chan's
Period Clothing

Since Avant Gauche has graciously listed all manners of useful sewing information on her site, I'm going to provide links to that.

American Commercial Patterns
A List of Pattern making Books
A List of Patterns in the Bibles